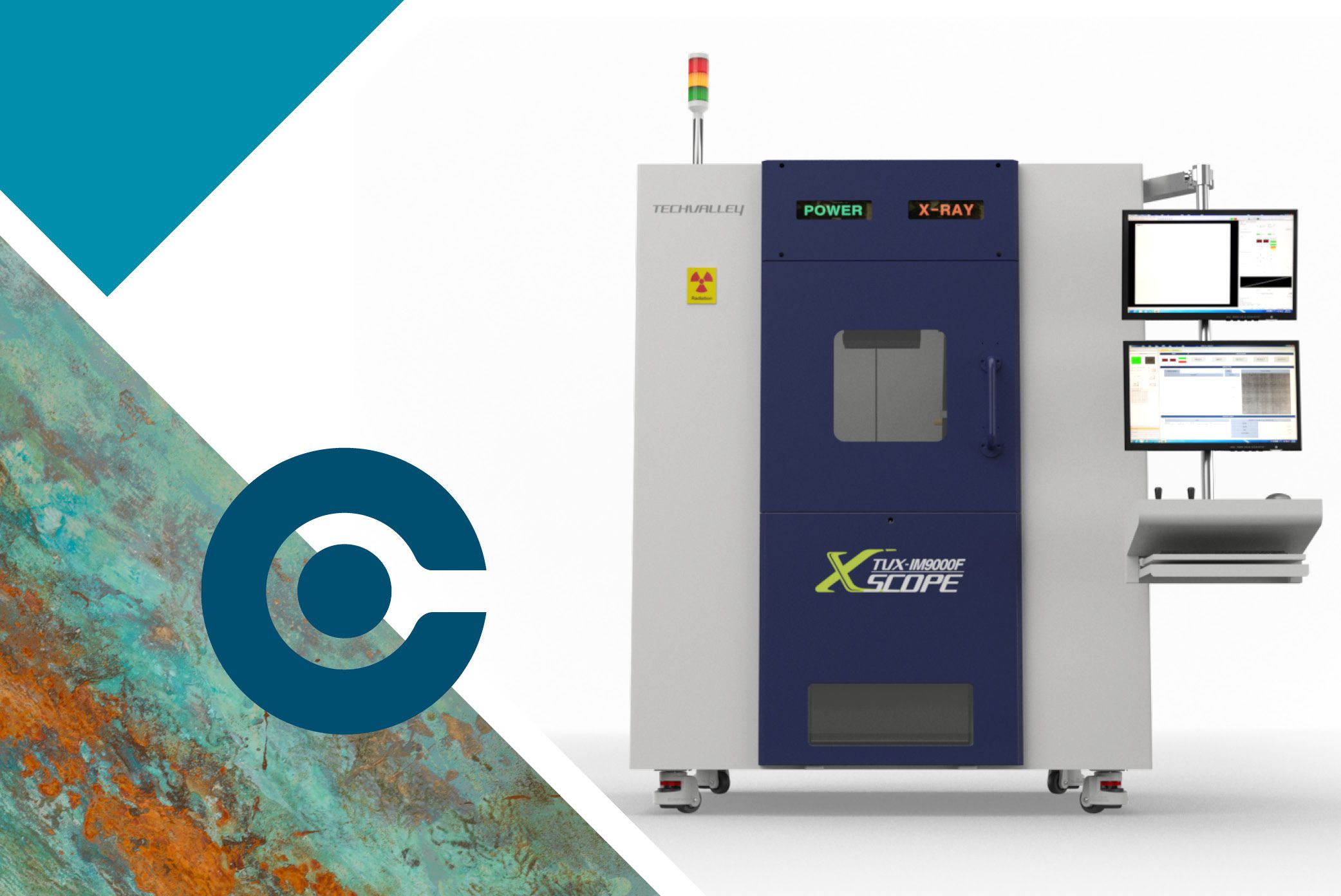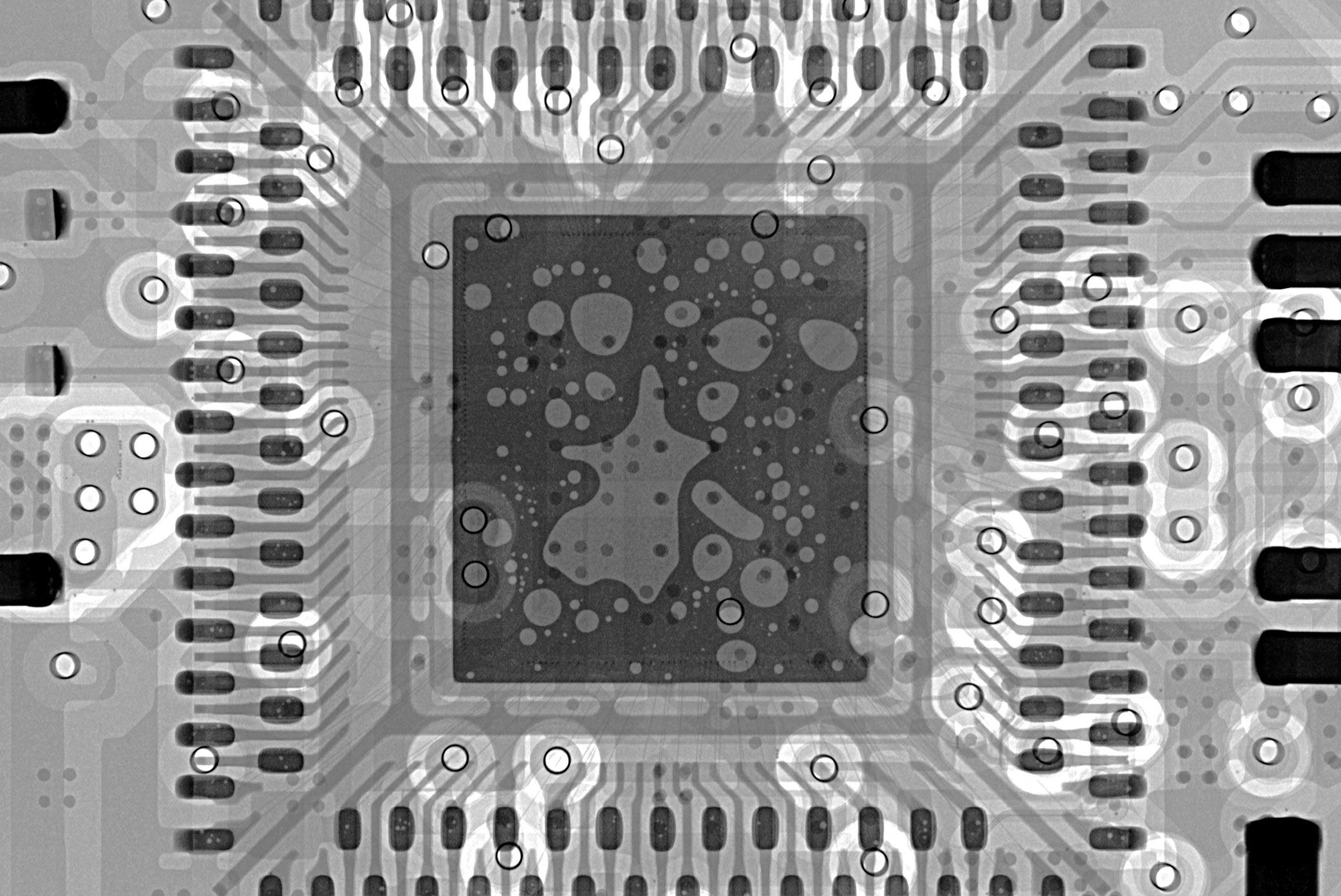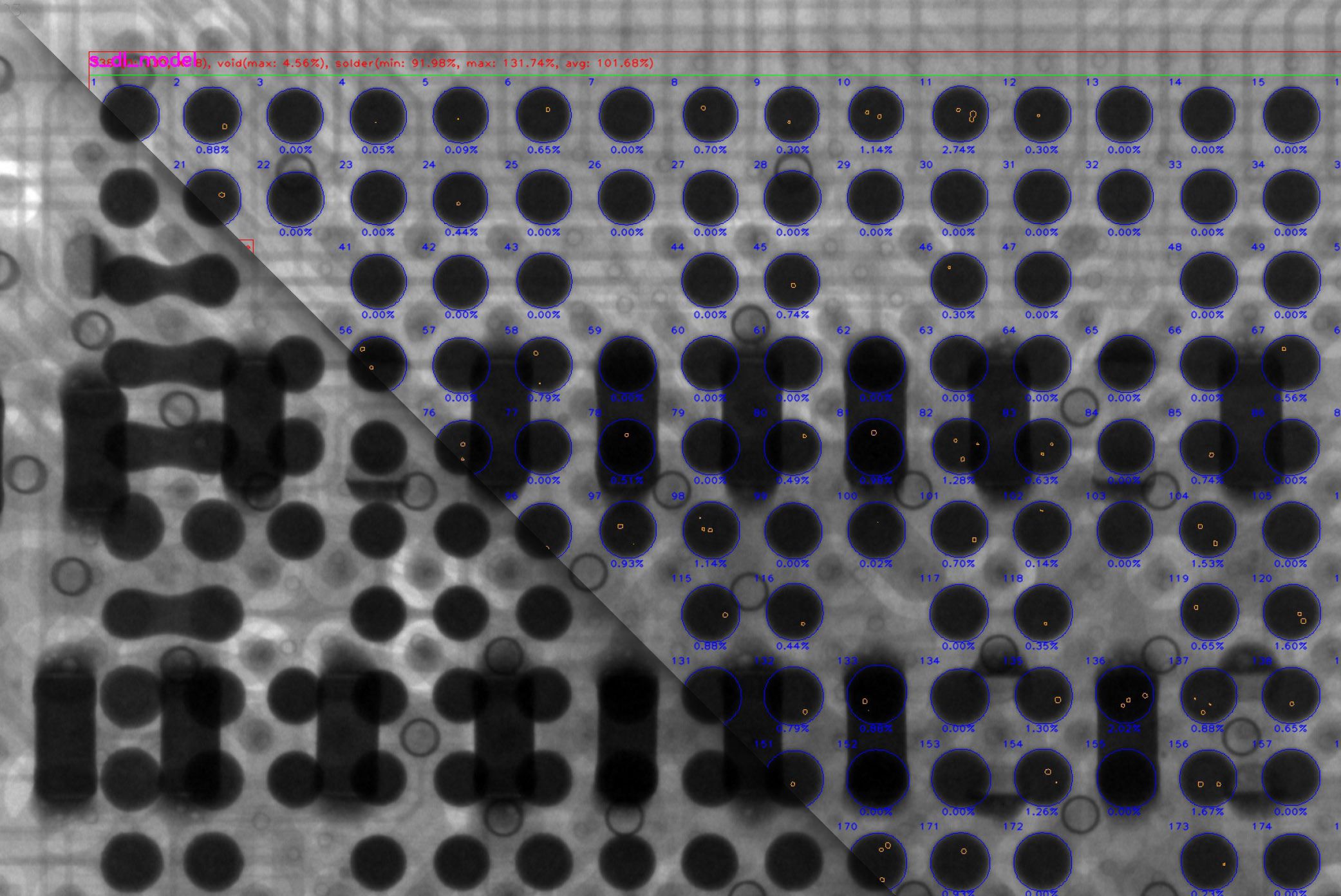 2D x-ray inspection equipment
2D X-ray Techvalley TVX-im9000F inspection system
To inspect and detect defects that is out of plain sight on your assembled PCB e.g. inside of shield parts, hidden solder joints etc. that an AOI machine can not inspect, you need a 2D X-ray Inspection System like the Techvalley TVX-IM9000F.
The Techvalley TVX-IM9000F stands out because the x-ray inspection does not reduce magnification even though the x-ray tube is tilted up to 50 degrees.

Option: Automatic X-ray inspection function can be added according to your company's needs.
- Inspects heavy & large products up to: 5 kg / 480 x 480 mm
About the 2D X-ray Techvalley TVX-im9000F inspection system
Specifications & more info
The 2D x-ray inspection machine: Techvalley TVX-IM9000F has a table size capacity of 480 x 480 mm / up to 5 kg.
2D X-ray sealed tube
X-ray tube voltage range: 20 ~ 110 kV

mA range inside X-ray tube: 0 ~ 0.25 mA

Minimum focal spot size: < 5㎛

Feature recognition: 2,5㎛

X-ray image detector
5 inch flat panel detector

Magnification: approx. x 120

Resolution: 6,9 mega pixel

ADC: 14Bit
4-axis (X, Y, Z + detector Tilt)
X axis 500 mm

Y axis 500 mm

Z axis 200 mm

Tilt 50°
X-ray display, image & processing
Filters kind of Enhancement, Sharpening, Blur, Median, Pseudo color, Edge finder LUT, etc.

Save Image & supply split screen

Manual Measurement available; distance, diameter, angle, etc.
Computer & system
CPU: Intel Core i5 Ivy Bridge 3.330 / LAN CARD

RAM: Samsung DDR3 8GB PC3-12.800

SDD: 128 GB / HDD: SEAGATE 1TB / 7.200 rpm

OS: WINDOWS 7

24" LCD Monitor & 19" CCTV Monitor

Machine size: 1.372 x 1.534 x 1.623 mm (W x D x H)
Machine weight: 1.650 kg.
Safety features
Dual safety sensor on the door

Shield cabinet to prevent X-ray leak

Design and fabrication is approved by Nuclear Safety Technologies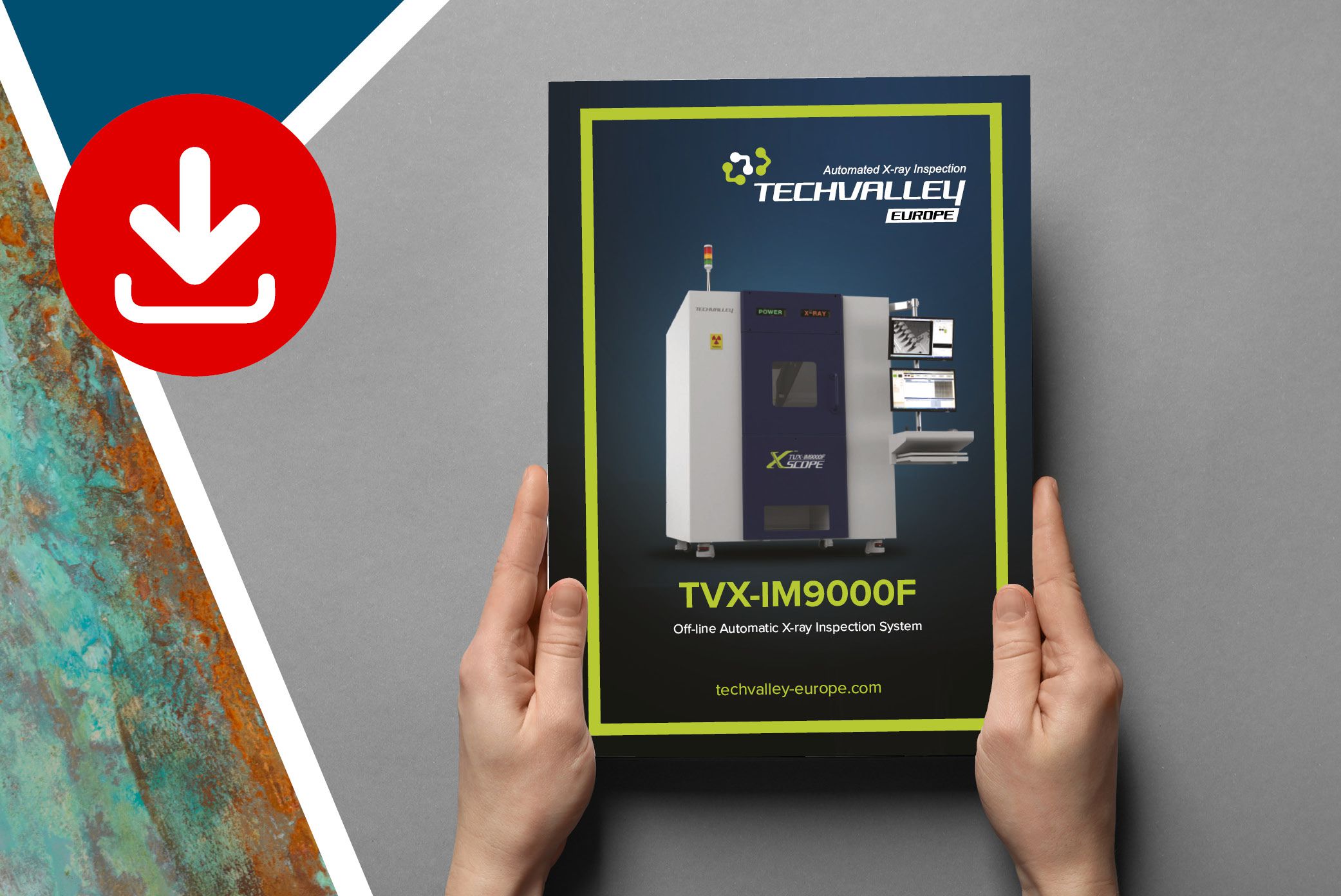 Download brochure
TVX-IM9000F 2d x-ray inspection

Download the TVX-IM9000F brochure from Techvalley to find 2d x-ray information from the manufacture for the TVX-IM9000F x-ray inspection system.
Video presentation
Techvalley TVX-IM9000F

Get a better understanding of how the 2D x-ray system for pcb x-ray inspection TVX-IM9000F from Techvalley works on this presentation video.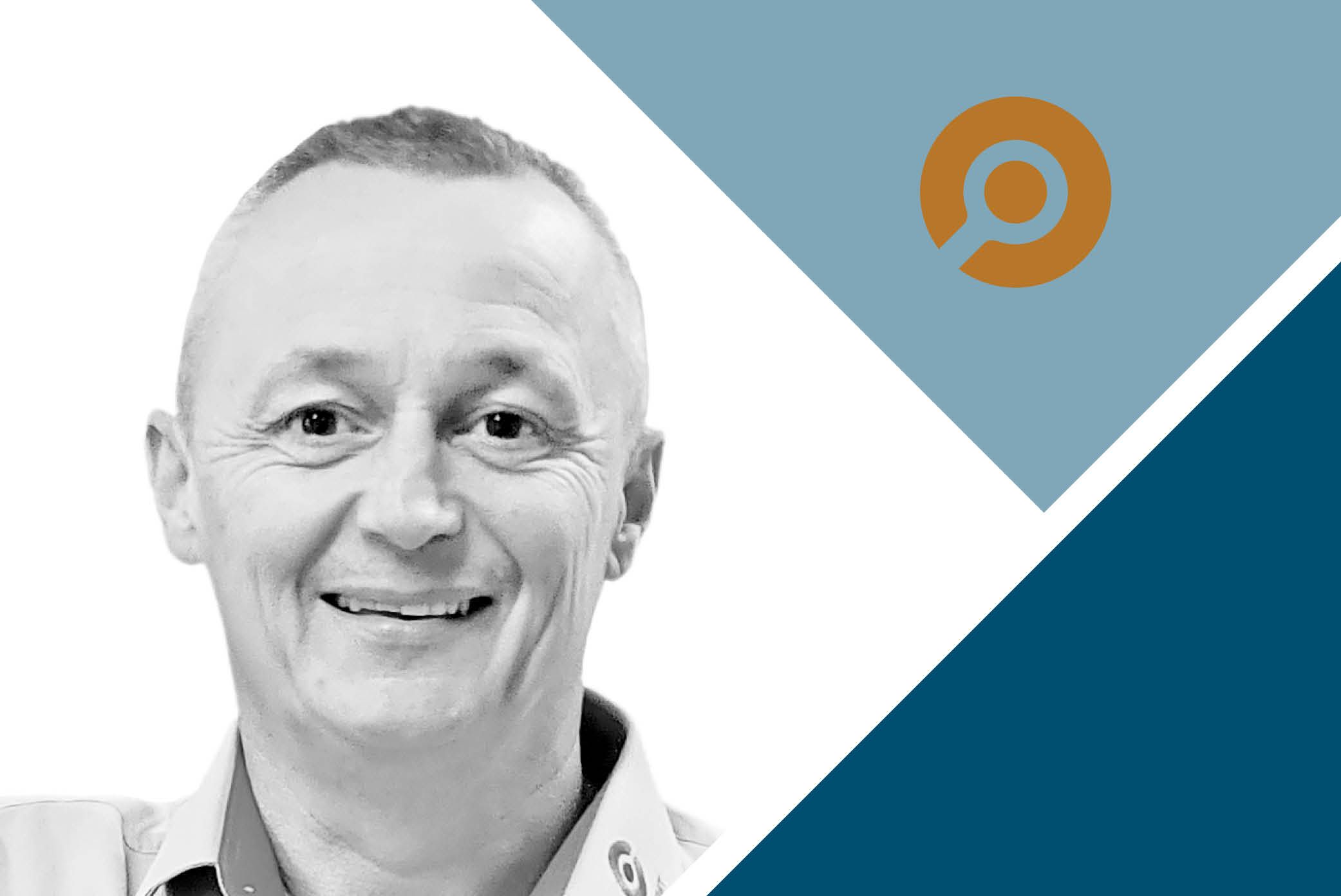 Price or questions?
Techvalley 2D x-ray system

We are ready to answer all questions about this 2D x-ray system to ensure that this pcb x ray inspection equipment is right for your company. Naturally we can also provide you the price.