One of the great highlights in 2021 was having the pleasure of meeting many of you face to face at the expo's EOT21, Productronica and Evertiq [FI]. 
Significant milestones was reached in 2021 as we celebrated our 10-year anniversary on the EOT expo, we sold our 150th new YAMAHA machine & yet again the CORE-emt family grow, this time with a new branch in Central America.
We are humble and proud that customers trusted us to deliver numerous new machines units & setting up several complete SMT line solutions in 2021.


'With the new customer optimized solutions from service department, our new branch in Central America - we look into an every interesting 2022.

The initiatives have implemented will open op doors to new partnerships and ventures.' 

share an optimistic Steen V. Haugbølle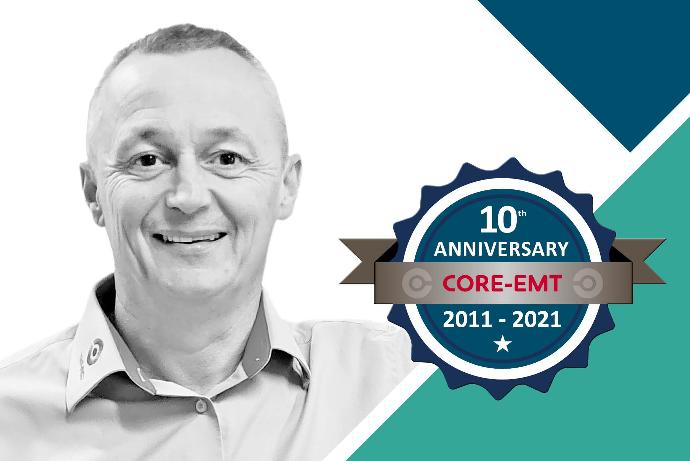 Christmas 2021
Holiday opening hours
▪ 24th – 31st of December  -  closed 

3rd of January and forward 
Regular opening hours
Monday - Friday ................................. 8 am - 5 pm

Initiatives launched in 2021 for stronger customer support
In January 2021 the service department made organizational internal changes and planned strong service initiatives that all aimed to strengthen customer support. 
This lead to the The support & issue solver system & the Connected remote support option.
Support & issue solver system
In Q4 our Support & issue solver system was launched and is now an essential part of the 'service toolbox' from CORE-emt. 
By using the system, customers get easier access to the CORE-emt service team. The 'Support & issue solver' system will also provide you and your colleagues transparency, documentation and full overview of your company's ongoing and solved support and issue cases. 
The Support & issue solver system was introduced to the first CORE-emt customers back in October. Since then, it has been and continuously will be introduced to all existing customers in combination with next scheduled service visit in 2022. 
To reduce downtime and eliminate some onsite visits, the service department are introducing the Connected remote support that is an option in the CORE-emt service toolbox.
What is Connected remote support?
Basically 'Connected remote support' is enabled by a smart connection box, you will have in your factory. The box provides a secure encrypted webservice that enables a CORE-emt service specialist to access your equipment, server or network.
Simply plug the connection box into the equipment, server or network in your factory that need our support. No software is installed, and it even works on off-line equipment or in closed networks.
Issue solving, that earlier required an onsite visit, can now in many cases be solved off-site I with CORE-emt's 'connected remote support'.
Contact Service Manager if you want to know more about the Connected remote support option's possibilities and price.
It is our pleasure being at your service
We want to express our sincere appreciation to our customers & business partners for your loyalty & collaboration this year.
It truly is our pleasure being at your service!
May your dreams come true in the year to come ❤
We wish you and family a heartfelt merry Christmas & luck bringing New Year
from CORE-emt team