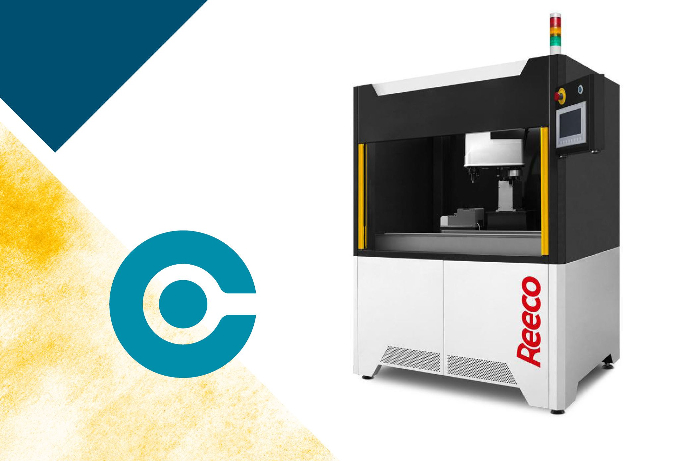 Inline / offline soldering robot
Soldering robot reeco RE-2100

Equipped with a YAMAHA robotics arm the soldering robot reeco RE-2100 works wonders both inline - or it can support your SMT production offline - depending on your production need.

A conveyor transports of the PCB / workpiece downstream the SMT line. Soldering robot supports PCB's / workpieces up to W 350 x L 420 mm.
- Working range: 350 x 420 x 150 mm + rotation head
About Reeco RE-2100 soldering robot
Specifications
Supported applications: W 350 x L 420 mm



Handled binder, diameter: 0,8 mm | 1,0 mm | 1,2 mm



Enable control the soldering profile for each point


Enable work in an automatic line
- e.g. as a part of an PCB assembly line alongside with other devices



Automatic positioning of PCB / workpiece
(mechanical or vision system*)

Process parameters controlled by PLC



Tin feeder with optional feeding profile configuration


Tip cleaner, mechanical

with + 40 different types of mechanical tip cleaners



Conveyor: inline transport of the PCB / workpiece

Induction power available for a tip - 150 W

Machine size: L 1.337 x W 1.010 x H 1.752 mm

Machine weight: approx. 500 kg



Options
- a *vision system for workpiece positioning and solder inspection
- Statistical data enabled via OPC UA protocol
- product traceability
- replacing the soldering head with one of other functionalities.
For more specifications about this inline soldering robot, download the product flyer below.
YAMAHA robotics arm
The robotics arm in the Reeco RE-2100 soldering robot is designed and manufactured by YAMAHA robotics
Maximum load 5 kg

Weight 22 kg
Contact us for more information about the soldering robots robotics arm.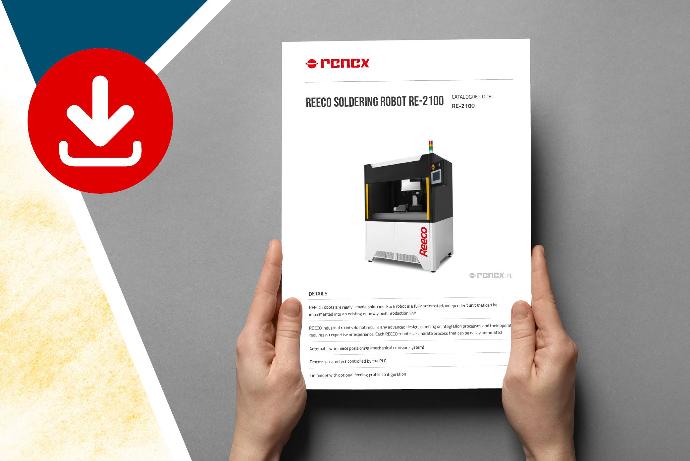 Reeco RE-2100 info flyer
Download flyer with info | Get the manufactures product flyer with useful information at about the Reeco soldering robot RE-2100.

RE-2100 soldering robot video

Product presentation video
Get a closer look at the RE-2100 soldering robot from Reeco on this product presentation video.

Reeco RE-2100 soldering robot info?

Need personal assistance? | Get in touch if you need more information or guidance to know if this soldering robot is the right fit for your production.