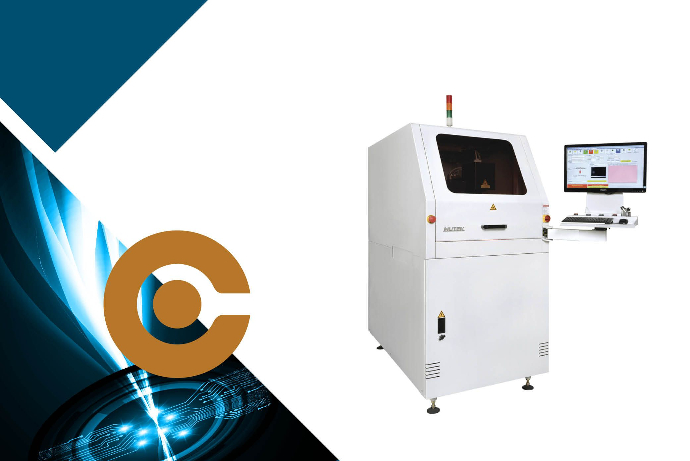 Nutek laser marker
NUTEK LMC-S5 laser marker system

The Nutek LMC-S5 Laser Marker is designed to accurately mark PCB's within a PCB assembly line but can also be used as standalone unit.

Very short cycle. The Laser Marker LMC-S5 have a 3-axis galvo-head that provides a large marking area (350 x 350 mm) without movement and usage of a X-Y gantry. The result is very short cycle time for large quantity markings.
Expect easy programming of the Laser Maker LMC-S5 in Windows™ based software to specify laser marking type, marking position and numbers of markings. For double-sided laser marking an optional inverter is available.
- Double sided marking is possible with board inverter option.
About Nutek LMC-S5 laser marker
Standard features & Specifications
Nutek LMC-S5 Laser Marker system standard features & specifications:
PCB size:

- length: 80 mm - 508 mm

- width: 65 mm - 460 mm

Marking area: 350 mm x 350 mm



Laser type: CO2, 10 Watt, air cooled

Wavelength: 10.63 μm

Laser class: Class 4

Housing class: Class 1



Capability to laser mark barcodes, 2D codes, text, numbers and graphics.



Conveyor width adjustment using hand crank

PCB side clamping

Rigid machine structure with large access doors

Adjustable focal distance using software.

Quick product change-over

Selectable by-pass mode

Uninterruptible power supply (UPS)

Tower light displays machine status

Controlled by industrial PC and CE certified.



More specifications? Downloading product flyer with all info below.



Machine size: 850 x 1558 x 1752 mm

Machine weight: 550 kg.
Options
Nutek Laser Marker LMC-S5 options are:
Program controlled conveyor width adjustment

Double sided marking with integrated inverter



Code verification of 1 single code on PCB edge using fixed scanner (Microscan MS4)

Code verification that covers full marking area, using CCD camera, camera adaptor and LED bar lights



Database- and network connection

Fiber laser

Fume extraction, external 1.000 VA max.



Other options can be available on request ask a specialist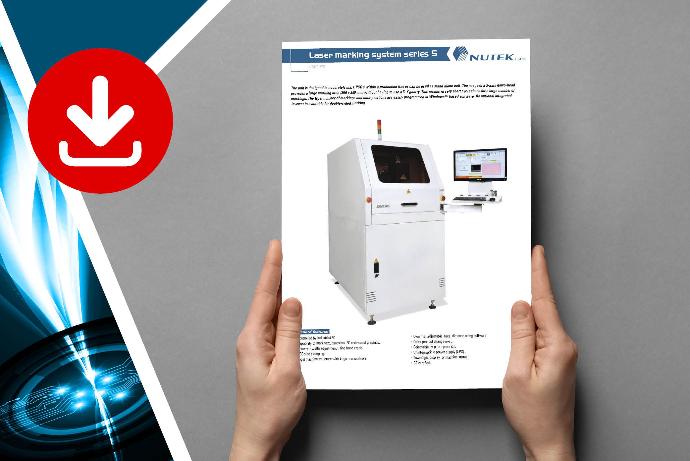 Nutek laser Marker LMC-S5 data

Find all specifications and technical information about the LMC-S5 laser marking system from NUTEK by downloading the LMC-S5 flyer.
Nutek LMC-S5 laser marking demo video

Here you find a video demonstration of the LMC-S5 laser marking system including the optional inverter for double sided marking.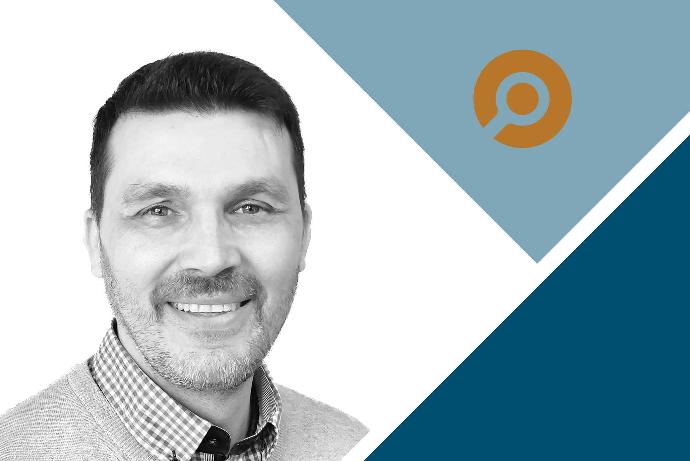 Laser Marker LMC-S5 price & questions

Are you in need of a laser marking system and wonder what the price is or do you have laser marking questions. Please just ask.