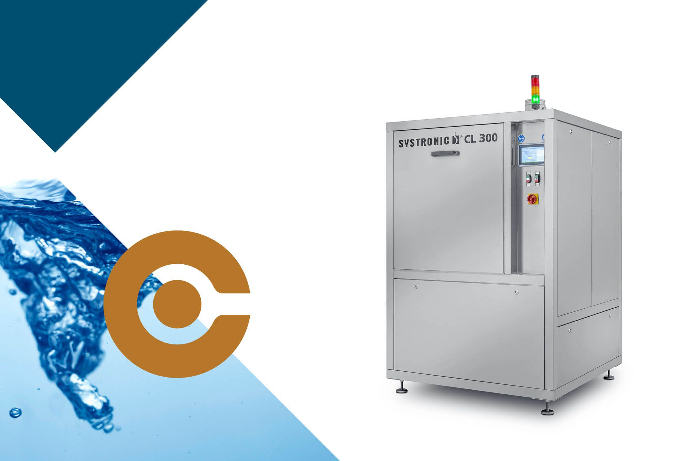 Solder frame cleaning machine​
Systronic CL300 solder frame cleaning

This automatic solder frame cleaning machine is perfect for you that use wave soldering and need your solder pallets and solder frames cleaned.
The SYSTRONIC CL300 can with it's large chamber clean 8 - 10 solder frames at the same time and the process time is approximately 45 minutes.

As the cl 300 Systronic solder frame cleaner have 1 chamber and 2 large tanks* both clean solder frames, rinse solder frames and dry the solder frames all in the same chamber.
* the 2 tanks ensures really high flow rate of liquid with the completely separated cycles between cleaning and drying.
- cleans off flux residues on solder frame and solder wave pallets
About SYSTRONIC cl300 solder frame cleaning machine
Specifications
SYSTRONIC CL300 is made for cleaning of solder frames and solder wave pallets.

Capacity:

- Single chamber: 8 - 10 solder frames
- Chamber size: 500 x 500 x 600 mm

- Usable chamber size: 470 x 485 x 600 mm



Chemistry: Alcaline maintenance cleaner / DI-water

Tank size: 2 x 95 liter - a closed loop system



Process time: approx. 45 min.

Throughput : 240 frames / day

Machine size: L 1.250 x W 1.250 x H 1.880 mm

Machine weight: approx. 700 kg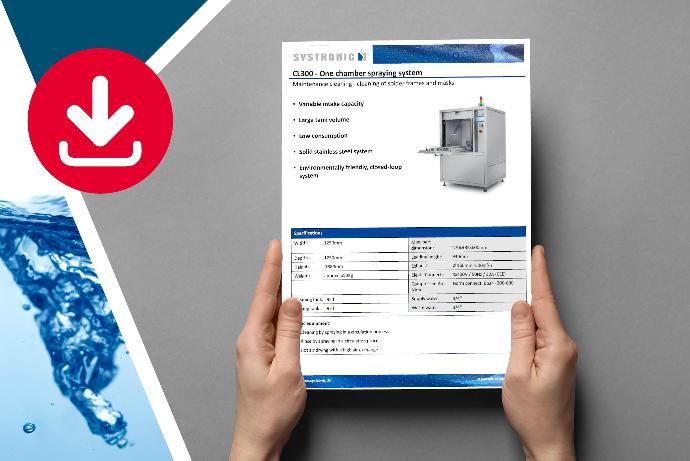 Systronic CL300 datasheet

Download all info on CL 300 | Find all data and info om SYSTRONIC cl 300 solder frame cleaning system.
It is a one chamber solder frame and solder wave pallets cleaning system.

Systronic CL300 price & questions?

We can help you | Do you need a price on the SYSTRONIC CL300 solder frame cleaning machine or do you have any questions about stencil cleaning systems in general - please just ask.