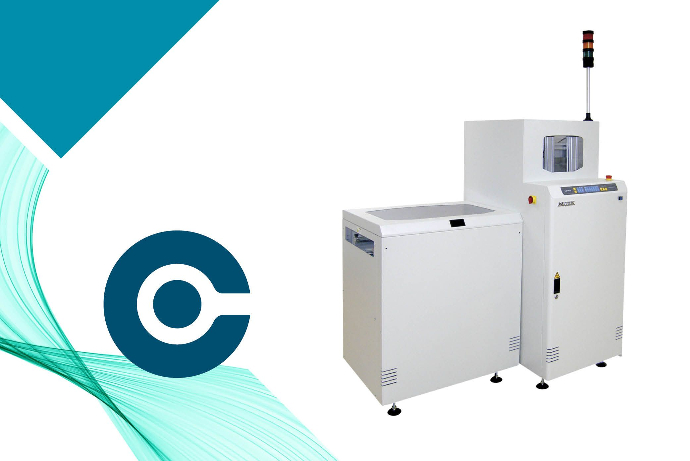 Single magazine & Multi magazine Nutek buffer​
Nutek buffer

Both the Nutek single magazine buffer and the Nutek multi magazine buffer have 6 standard modes. Naturally they work as a Nutek LIFO buffer and Nutek FIFO buffer. Furthermore the Nutek buffers also offer unload mode, load mode, Reject mode and By-pass mode.
The Nutek buffer keep the magazines automatic alignment by lower and upper pneumatic clamping.
- Magazine based assembly line buffers
About assembly line buffer conveyors: Nutek buffer
Standard features & specifications
Nutek buffer conveyors; single magazine & multi magazine comes with:
6 standard operation modes:

- LIFO buffer mode
- FIFO buffer mode

- Unload mode

- Load mode

- Reject mode

- By-pass mode



Towerlight displays machine status.


Selectable pitch settings.

Dual function pusher conveyor.

Pressure limitation on pneumatic pushers.

Exchange magazine from rear of the machine

Tailor made to the magazine of your choice.

Threshold signal to protect PCB's in upstream oven.

Automatic magazine alignment by upper- and lower pneumatic clamping.

Controlled by PLC & CE certified.



Download spec sheet below to get all specifications.
Options
Options for Nutek assembly line buffers conveyors:
By-pass conveyor above magazine platform



3 different width adjustment options:
a) electrical conveyor
b) automatic conveyor
c) magazine conveyor



Magazine exchange on front-side

Touchscreen

Alarm buzzer



Other options available on request - get personal assistance for this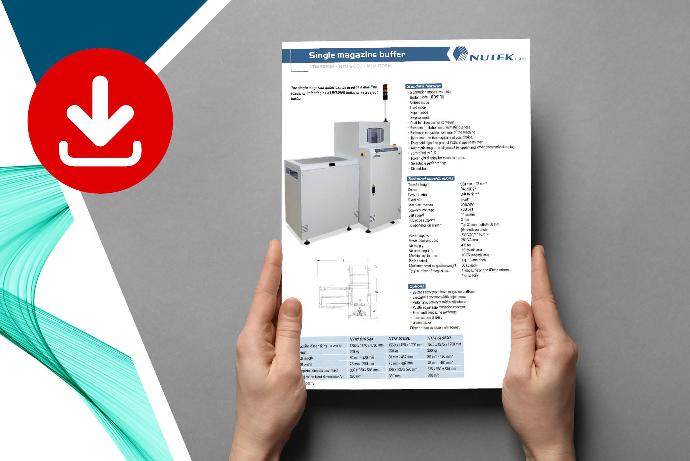 Nutek buffer single magazine
Download single magazine buffer flyer | Here you find all specifications on NUTEK single magazine buffer. An Nutek buffer is perfect for your PCB production line.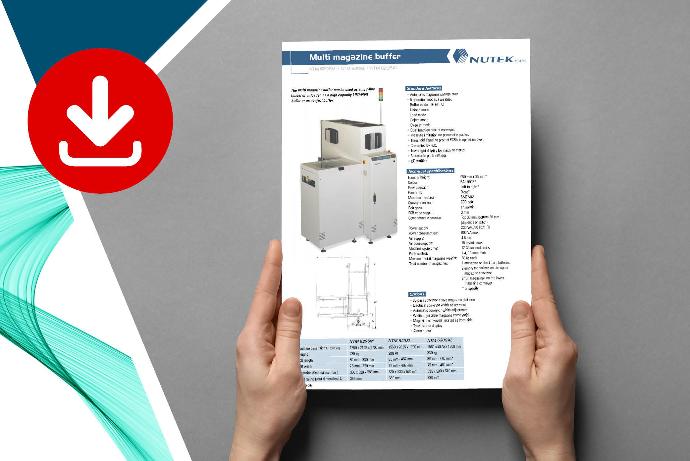 Nutek buffer
multi magazine
Download multi magazine buffer flyer | Want to know more? Download & find all info and specifications on this Nutek multi magazine buffer.

Video | Nutek buffer magazine based
See Nutek's PCB magazine buffer operation video that also show the magazine buffers features.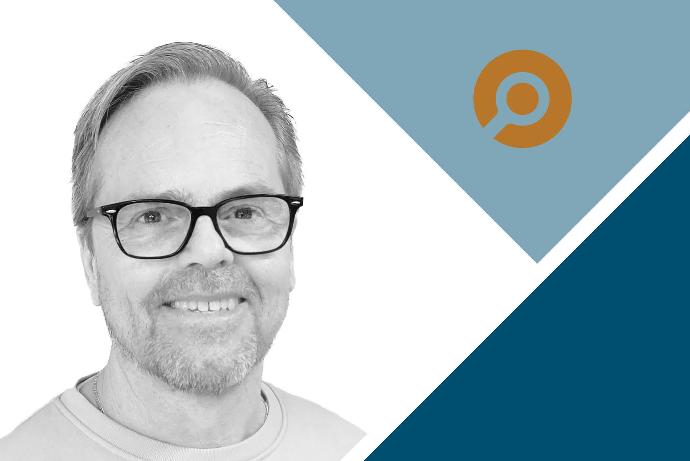 Nutek buffer price or questions?
We are ready to help | Do you want to know more or need a price on a Nutek buffer? We offer both the single magazine buffer or the multi magazine buffer.

Personal assistance >