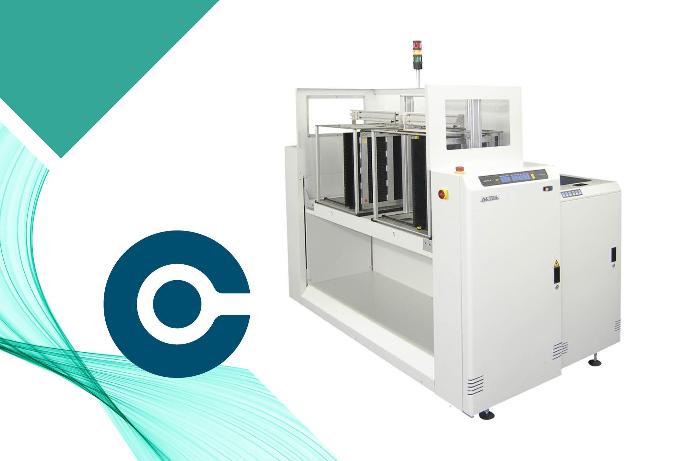 PCB assembly line dual loader conveyor
Nutek dual loader magazine based

This Nutek dual loader - is made i 3 versions / sizes - they are all dual PCB loader conveyors. Transporting the PCB from the magazine to the next machine in your SMT assembly line. All 3 PCB dual loaders from Nutek have build-in shuttle conveyor that receives the pulled boards. The shuttle conveyor moves sideways between the 2 magazines.
Apart from this dual loader the company Nutek have several loader & unloaders and a huge range of other PCB conveyor board handling equipment you will find on our page.
- Magazine based dual loader
About Nutek dual loader conveyor
Standard features & Specifications
Nutek dual loader is made in 3 versions / sizes
- you will find their standard features here:
Towerlight that show machine status.

Magazines are manually placed on the platform and will be clamped into position.

Tailor made to the magazine of your choice.

Regulated pressure on the integrated pull cylinder.

Ball screw driven positioning on shuttle conveyor.

Conveyor width adjustmened by using hand wheel.

Selectable pitch settings.

Controlled by PLC and CE certified.



Machine size: see all 3 sizes in data sheet below

Machine weigh: see all 3 in data sheet below

Download spec sheet below & get all specifications on the 3 Nutek dual loader versions.

Options
Options to PCB dual loader from Nutek :
Shortened cycle time with the servo drive upgrade



Electrical conveyor width adjustment

Automatic conveyor width adjustment

Puller moves at ratio 1:2 to conveyor width



Increase magazine capacity with rotating pull cylinder

Hybrid magazine

Dual direction for same side loading / unloading



Touchscreen display

Alarm buzzer



On request other options available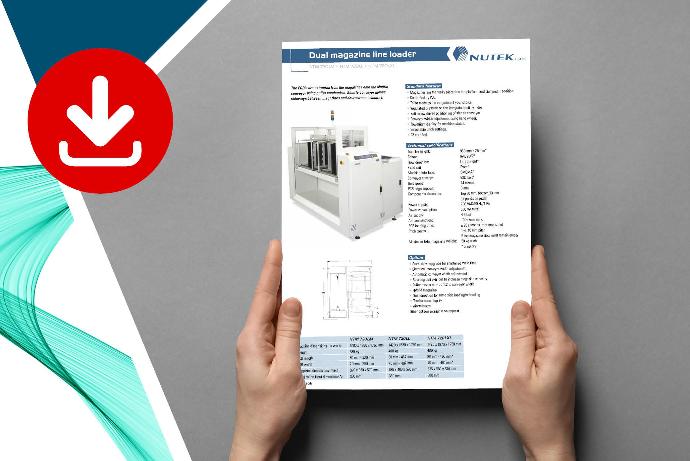 Nutek dual loader data on 3 versions

Download dual loader specifications
The Nutek PCB dual loader conveyor spec sheet include 3 versions of the dual loader are available for download here.
Download to find all specifications and more on the Nutek dual loaders.

Nutek dual loader introduction video

See how the Nutek dual loader works.
This informative video shows how this NUTEK dual magazine loader operates. From the easy loading of 2 magazines, to the board loading process and display of the dual loader machine features.

Nutek dual loader price or more info?

SMT line dual loader from Nutek including other board handling equipment from nutek in combination with SMT line equipment is what we excel in. Please contact us, if you have any questions about assembly line loaders.