SYSTRONIC cleaning machinery 
SYSTRONIC cleaning machinery
Perfectly clean PCBA's, solder printer stencils nicely cleaned after use and obtain flux free HTH solder frames to support your PCB assembly production.
!! NEW !! SYSTRONIC cleaning machinery available in Scandinavia & the Baltic region by CORE-emt
- the perfect addition to the complete SMT line machinery range to offer you the full machinery selection.

PCBA cleaning
Clean your mounted boards from harmful flux residue, grease and other dirt particles.
Stencil cleaning
Clean your SMT stencils from solder paste, SMD paste, SMD adhesives and grease.
Solder frame cleaning
Clean your solder wave frames and pallets from flux residue and defluxing.
SYSTRONIC CLEANING MACHINEY
- Efficient & leak free constructed in stainless steel -
PCB cleaning machines
 Clean your PCB from harmful solder flux residue, dust and grease with a SYSTRONIC PCB cleaning machine you can obtain perfectly clean PCB's.
You can clean both bare boards and assembled PCB's in a PCB cleaning machine.
SYSTRONIC PCB cleaning machines include both single PCB cleaning units and large inline PCB cleaning machines that will cover your need for PCB cleaning whatever the PCB volume is.
Stencil cleaning machinery
Proper cleaning of all your SMT stencils is one of crucial the cornerstones in ensuring high quality in your solder prints and minimize misprints. 
Safe yourself from PCB assembly manufacturing time and hassle by using a stencil cleaning machine. The stencil cleaner will clean off all solder paste, SMD paste, SMD adhesives and other contamination that otherwise could lead to misprints and a damaged final product. 
Be smart – do maintenance, clean your stencils with a efficient stencil cleaner machine from SYSTRONIC. 
Solder frame cleaning machinery
Clean your solder frames by removing flux residue from your solder frames and solder pallets after wave and reflow soldering with an efficient SYSTRONIC solder frame cleaning machine. 
A solder frame cleaning machine is often also used to clean and deflux other items e.g. flux traps, oven parts, filters and more.
The primary task for a solder frame cleaning machine is removing flux residue or defluxing as many call that task.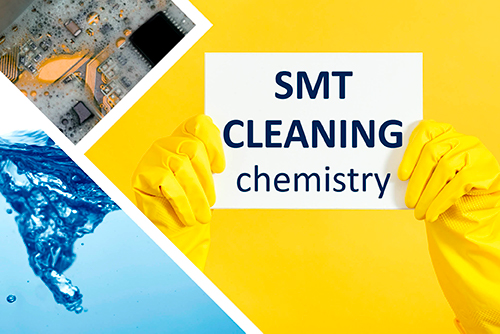 Efficient cleaning chemistry
The SYSTRONIC team have created a SYSTRONIC SMT cleaning chemistry. Naturally CORE-emt also offers their efficient detergent.
SMT cleaning chemistry was developed and (is continuously) tested on the SYSTRONIC cleaning machinery.
However you can also use their detergent on other cleaning machinery.