We look forward to meeting you and your colleagues at the evertiq expo in Tempere, Finland, for electronics industry networking, industry news and inspiring industry relevant lectures from skilled industry people

How to save energy in the reflow process
Because it enables tremendous energy savings during production gaps, we'll put a special focus on BTU's EnergyPilot software. 
Offering 3 energy saving reflow oven modes:
25% energy save in Standby mode
applies to a short production gap

45% energy save in Sleep mode
applies to a longer production gap

90% energy save in Hibernate mode
applies to an extended production gap
Get insightful energy saving tips. Come by for expert guidance from our colleague Oliver from BTU who can also be found on booth no. 2.
Lift your assembly line output & quality with up to date line equipment
We are excited to bring you production equipment news:
You find us at booth no. 2 during the evertiq exhibition, where we are ready to guide, help and support you with complete SMT line solutions, with supporting line units, Process Support and lean on our strong inhouse service department.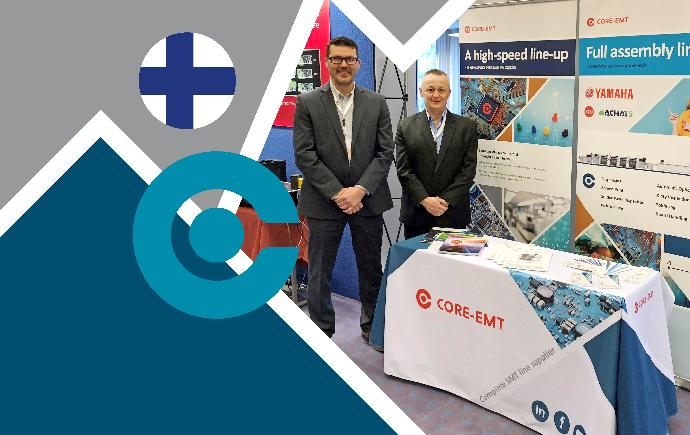 Popular article: Finnish Ele-One's big ambitions lead to a new complete SMT line investment   
Where
Find Finnish Evertiq Expo 2022 
The venue for Evertiq Expo Tampere is at the Tampere Hall, Yliopistonkatu 55, 33100 Tampere
At booth 2 you'll find the CORE-emt team.

When
Date & time 
Date: 
30th
 of November 2022

Time: 9 am - 4 pm

Get free ticket
Sign up for a free ticket
A ticket to this Evertiq expo gives you access to useful conference sessions and the perfect opportunity to see what is new in the electronics industry. 
Questions? - or du you need help before the evertiq expo?

Kai Koivunen is our Finnish colleague. Kai primarily handles our Finnish & Baltic connections as he lives close by and run CORE-emt's Finland department.