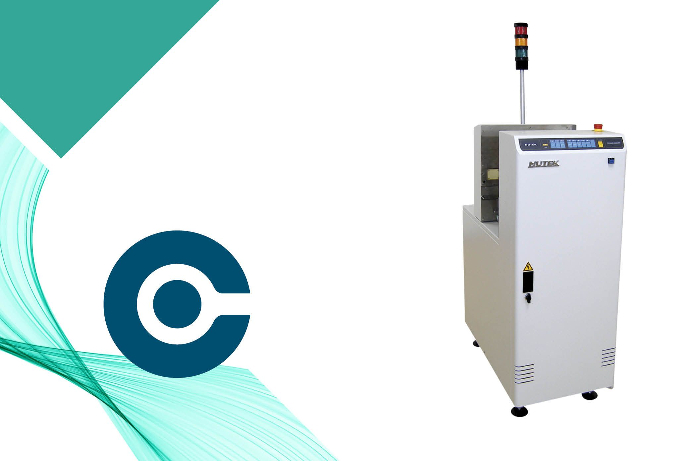 Nutek destacker conveyor
Nutek destacker conveyor
PCB destacker
This large stack Nutek destacker for made for PCB assembly. This PCB destacker is a bare board loader, that loads the board onto the SMT production line. Mostly a destacker like the Nutek destacker will transport boards on to the screen printer or a dispenser.
In pass mode (standard feature) the PCB is transported by conveyor onto the next machine in the assembly line. This PCB board destacker conveyor is from Nutek conveyors - they are known for their durable PCB board handling.
- Fast and large stacked PCB destacker conveyor
About Nutek destacker - the pcb destacker conveyor
Standard features & specifications
The Nutek destacker conveyor comes with:
Short PCB cycle time.

Thin PCB capability.



Towerlight shows for machine status.

Pre-warning sensor of low stack.



Selectable by-pass mode without removing PCB stack

Adjustment width on conveyor by using hand crank.



Controlled by PLC and CE certified.

Download spec sheet below to get all specifications on this Nutek destacker conveyor that comes in 3 versions.

Options
Additional Options to DSK single destacker conveyor:
Adjustable conveyor width - 2 options:

- a) Electrical

- b) Automatic conveyor



Extension 200 mm for convenient stack loading

Cantilevered input- or output conveyor, length 500 mm



Touchscreen option

Alarm buzzer



Note: other options available on request - contact us for this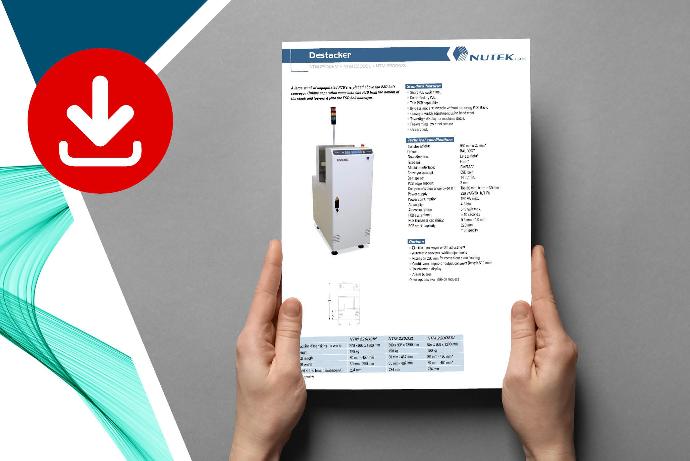 Download destacker specifications

See all PCB destacker data in this specifications sheet that is available for download. In this destacker flyer with all specifications you will find the dimensions on the 3 destacker versions that this unit comes in.

NUTEK destacker video
See PCB destacker presentation | Take an up-close look at this user friendly NUTEK destacker conveyor that e.g. has a empty stack alarm, and can hold up to a max of 400 pcs. and is easily operated by LED control panel - see more in the video.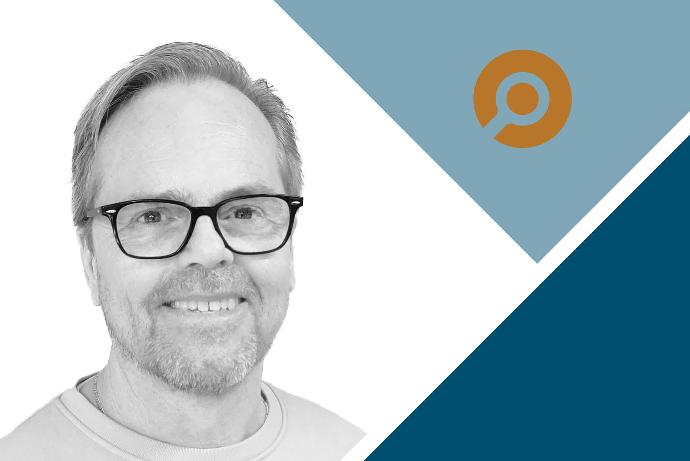 PCB destacker price or question?

We are ready to help you | PCB destacker converyors and other board handling conveyors combined with the complete SMT line machinery are what we excel in. Do you want a price or have questions? Please contact us.