YAM​AHA press release  |  Ouman Group
Complete Yamaha SMT line to Ouman Estonia
Smart-building technology leader OUMAN chooses complete YAMAHA SMT line to succeed in fast-growing market

Yamaha Robotics SMT has delivered its 1 STOP SMART SOLUTION for surface-mount assembly to Ouman Estonia OÜ, a leader in advanced control systems for smart buildings. The new equipment is already in action, delivering increased manufacturing capacity and extending Ouman's technical capabilities.
Ouman's new SMT line with Yamaha printer, Pick & Place and 3D AOI inspection. The line is completed with a BTU reflow oven and board handling from Nutek.
The market for building automation is growing quickly, driven by customer desires to save running costs and energy consumption and enabled by technologies such as affordable IoT connectivity that assist monitoring and control. Overall, the sector should exceed $4 billion in Europe by 2028, according to analysts. Seeing such a positive outlook, Ouman's management decided the time was right to invest in new equipment to build its portfolio of advanced electronic sensors, actuators, controllers, and communication gateways that enable buildings to become smart and connected.
'We needed a flexible, high-mix assembly solution to handle our diverse range of products.' 
explains Rando Kubits, General Manager of Ouman Estonia OÜ at the grand opening to celebrate the new facility.

'Our choice of partners was equally important. We expected excellent technical services, to help us select the right equipment options and get up and running quickly, as well as committed, long-term support, technical expertise, and the stability of the business.'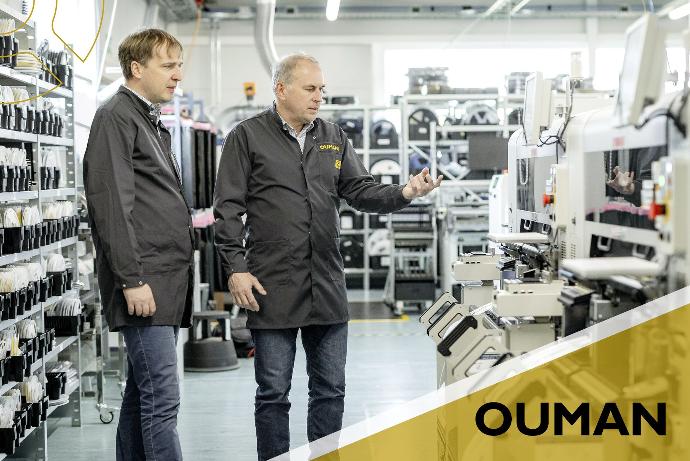 Ouman Estonia's General Manager 
Rando Kubits & CEO Erik Keerberg by their new SMT line.
Ouman began an extensive evaluation of potential suppliers, narrowing the field from 10 candidates to four, and then choosing the winner from a final pair. Key criteria included not only equipment performance, but also access to local support, business credentials and track record, and peer opinion of equipment already in the field. 
'We were impressed at the professionalism and the range of services Yamaha and its regional distributor, CORE-emt, were able to offer us,' says Kubits. "In addition, the 1 STOP SMART SOLUTION, being so cohesive and connected, gave us the extra assurance that our new surface-mount line would deliver above and beyond normal expectations."
Working together with CORE-emt, Yamaha proposed a complete assembly line containing YCP10 precision screen printer, two YSM20R high-speed mounters, and 2D and 3D YSi-V inspection systems. Ouman requested additional special features including the QA Option software package that feeds-back data from inspection results in real-time to help continuously optimise the printing and placement processes.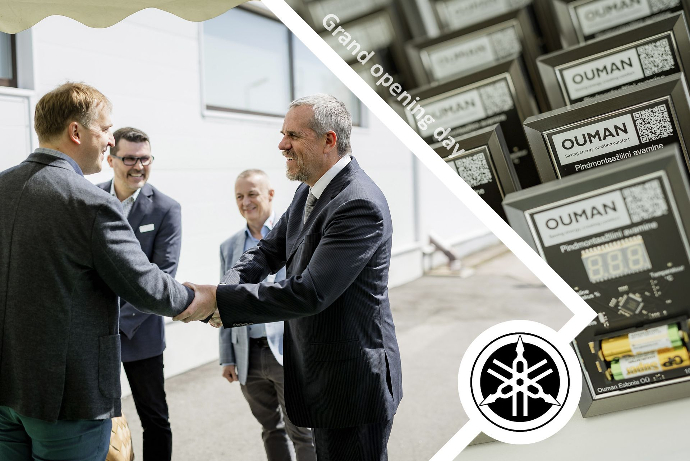 Yamaha Sales Manager, Pierre Williams (on the right) congratulates OUMAN
General Manager 
Rando Kubits with their new SMT line. Smiling on the Grand opening day in the background is CORE-emt's Steen V. Haugbølle & Kai Koivunen.
Kai Koivunen of CORE-emt commented, 
'We were able to offer the best solution, leveraging our close partnership with Yamaha and in-house technical expertise. We are now looking forward to strengthening our connection with the team at Ouman, to ensure the best possible return on their investment."

Pierre Williams, Yamaha sales manager, added, 
'I am confident that Rando and his team will achieve their goals in the dynamic building-automation market, aided by their new SMT line and the support we can provide through our distributor CORE-emt.'
Ouman's grand opening of their new SMT line
Picture above
Listed left to right

Steen Haugbølle, CORE-emt 
Matti Lipsanen, Ouman
Erik Keerberg, Ouman
Rando Kubits, Ouman
Kai Koivunen, CORE-emt
Pierre Williams, Yamaha Motor Europe



The complete Yamaha SMT line to Ouman Estonia contains
The Yamaha YCP10 printer anchoring Ouman's new surface-mount line combines a print-cycle time of 8 seconds with extremely high repeatability. There are high-end features like Yamaha's 3S head, which has flexible settings to optimise paste transfer, as well as stencil vacuum that saves setup time. Users also benefit from advanced stencil alignment and cleaning features and the machine can accept large-size PCBs within its compact footprint.
Each Yamaha YSM20R mounter can place up to 95,000 CPH. Yamaha's flexible placement heads can handle a wide range of component sizes and help minimise stoppages for reconfiguring the machine. 
The YSM20R can be setup to handle a wide component size range from 008004" (0201 metric) to 28 mm x 28 mm. Smart component recognition and on-the-fly pickup checking help maximise end of line yield. 
Special options include efficient feeders, nonstop carriage exchange, and the auto tray sequencer that help further increase productivity.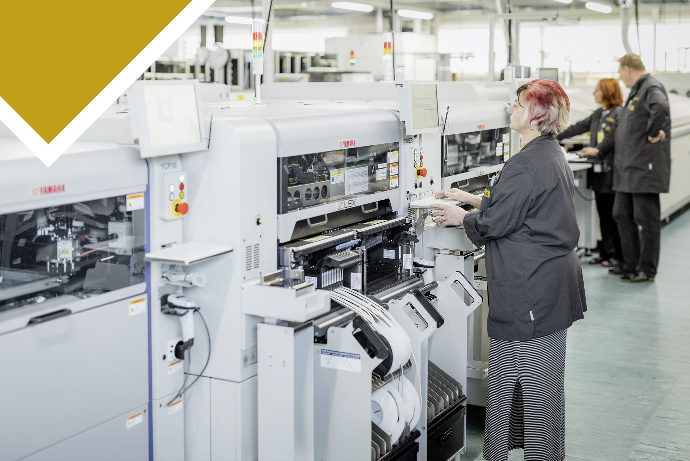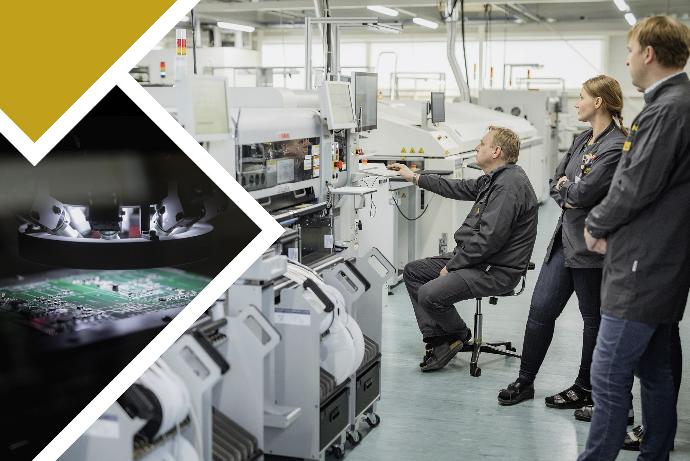 The first of the two AOI inspection systems is installed immediately after the mounters to provide high-speed and high-resolution 2D YSi-V inspection. It supports multiple inspection modes including colour and infrared scanning, and laser height measurement to check that all components are correctly placed and oriented before reflow. 
At the end of the line, after the reflow oven, the second Yamaha YSi-V is configured for 3D inspection with powerful features to detect floating components and make pass/fail contour judgements.
To complete the SMT line, thus delivering a ready-to-use solution as requested by Ouman, Core-emt added a flexible PYRAMAX, multi-zone reflow oven from BTU and implemented custom conveying systems from Nutek, leveraging its broad portfolio of high-quality manufacturing equipment.
  With the grand opening of the full line based on the 1 STOP SMART SOLUTION from Yamaha, Ouman's new production capability is now in action and promises many years of reliable service.
Ouman employees after completed 
training on their new SMT line equipment.