Smarter PCB assembly workflow raise productivity
YAMAHA SMT presents a new SMT factory software platform; YsUP. The new software is packed with new features and that support a smarter PCB assembly workflow that raises productivity. 
YAMAHA Programming & Scheduling package 
While PCB programming see changes on 3D virtual board in real-time
Access an assembly production process where 'sticky boards' are not needed, because the programmer has already seen, checked & corrected the board program on a 3D virtual board, in the programming process. 
YAMAHA's powerful programming tool, lets the programmer to see a 3D virtual board in real-time while programming. 
3D virtual board display:
PCB

solder print

fiducials 

component placement

component polarity point check & rotation made easy
Optimize programming process & save time
Automatically rotate polarity problematic components, by setting up 'custom correction rules' to optimize and save time in the programming process.
The 3D virtual board function is a part of the 'Visual Editor' tool in the YAMAHA SMT's Programming & Scheduling package.
We recommend using 2 screens simultaneously:
🖥️ A: to program on 
🖥️ B: to see real-time 3D virtual board, that immediately show programming changes on the 3D virtual board
YAMAHA production assistance package
Drastically cut down component pickup rounds for highest SMT line operator efficiency 
SMT line operators can be more productive – working at the same pace - provided intelligent workflow tools, that assist the operator(s) to be one step ahead in the operating process, creating the ideal SMT operator workflow.
Targeting component supply process both during setup & production, our intelligent component supply tools will instruct and inform the operator on what to do, to lift performance and keep production running smoothly.
Intelligent component supply & other powerful software tools are found in new YAMAHA production assistance package.
🧰👀 -> Look inside the modern line operator's toolbox in the video about Intelligent supply of components to Pick & Place machine.

YAMAHA Traceability package 
Track and trace within your SMT manufacturing history
Make detailed searches among past assembled products, based on machine-driven events and image data from AOI inspection and mounter vision results that can be stored in your database for each production batch. 
Providing easy access to SMT manufacturing history search, is the foundation for efficient traceability that will serve you well. This is what YAMAHA SMT Traceability software package can do you.
Also, the traceability output data from the Pick & Place machine is compatible with 3rd party solutions.
YAMAHA monitoring & analyzing package
Real-time production analysis with SMT production monitoring 
Visualized production data for both factory floor production and line operational conditions enable easy access to quickly define and identify output quality and efficiency bottlenecks.
Gain insight & overview 
into your assembly line(s) performance

OEE, Overall Equipment Effectiveness

identify where to put focus to heighten output quality and speed.
YAMAHA SMT Dashboards uses intelligence algorithms to perform top-down data analysis. 
Utilize your visualized production data with YAMAHA SMT Dashboards. The dashboards are a part of the new software platform YsUP.
Smarter PCB assembly workflow raise productivity by utilizing the newest software features
The YAMAHA YsUP software platform consists of 6 powerful tool packages.

YAMAHA M2M collaboration
Display some PCB point in each SMT process simultaneously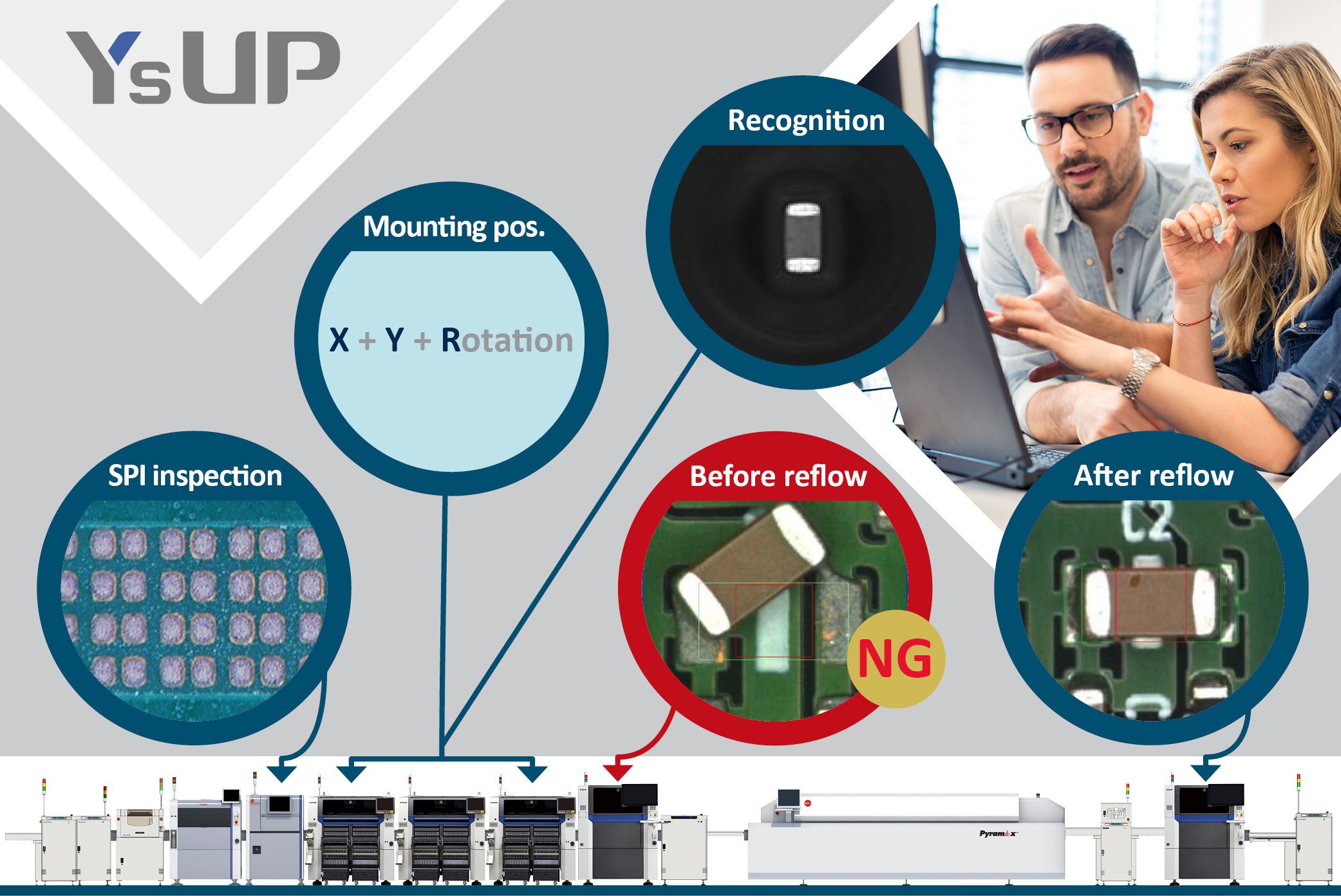 Pinpointing the NG point - to fix the issue right away, during production - that is the smart and efficient way to perform quality improvement inline.
By assessing a specific component status throughout the entire SMT process simultaneously, you gain knowledge to swiftly pinpoint where the NG issue occurs.
See images from the same PCB spot on from
SPI process - solder paste inspection

P&P process - mounting position + component recognition

AOI process – inspection before reflow + after reflow
The YAMAHA M2M collaboration package has multiple other useful functions that optimizes your production workflow. YAMAHA M2M collaboration package is a part of the YAMAHA YsUP software.