YAMAHA press release - new product launch

Yamaha Motor Europe Robotics SMT Section announced today that the new YRM20DL surface mounter* that is launched on April 3, 2023.
The YRM20DL is a premium high-efficiency modular that achieves improved actual and per-unit-area productivity with a newly developed high-rigidity dual-lane conveyor by further reducing transport losses etc. YRM20DL is built on the basic performance of the company's flagship high-speed, high-accuracy, high-versatility, universal mounter YRM20.
YRM20DL supports a maximum PCB width of up to 330 mm where the same width PCB is being conveyed at the front and rear while in dual-lane production mode. In the case of parallel mounting, the front and rear heads can operate without any interference up to a maximum PCB length of 380 mm, enabling high-efficiency mounting without loss.
Furthermore, the basic performance of the unit has been further enhanced to achieve an overwhelming productivity of 120.000 CPH** (under optimal conditions)***, the world's highest level of speed in its class, along with a higher-accuracy placement of ±15µm (Cpk≥1.0) through the revision of the layout such as bringing the mounted components pick-up area and the mounting area closer together, optimizing the main spindle motion control, improving the rigidity of the conveyor and the corrective functionality etc.
By taking advantage of the Yamaha Motor's strengths as a full-lineup manufacturer of mounting equipment, including surface mounters, printers, dispensers, and inspection systems. The company promotes the Intelligent Factory system, which comprehensively realizes higher efficiency in the mounting process through smooth and advanced inter-equipment cooperation without black boxes.
* Surface mounters: Production equipment designed to mount various electronic components onto PCB's (Printed Circuit Boards), which are then incorporated into electronic products.
** CPH (Chips Per Hour):
Total number of chips that can be mounted per hour (unit time). Indicates processing capacity under various conditions.
*** Comparative mounting capacity (CPH) under optimal conditions for surface mounters in the 2-Beam, 2-Head Class. Yamaha Motor survey, February 1st, 2023.
Market background and product outline
In addition to the rapid electrification of powertrains for in-vehicle electronics, the miniaturization, high-densification, high functionality, and diversification, as well as shortened product cycles have increasingly accelerated for a variety of products such as appliances, personal computers, and mobile telephones.

In response to this, the miniaturization of components have also progressed, and higher-performance, higher-efficiency equipment with greater flexibility and efficiency has been introduced, promoting a dramatic increase in production capacity at manufacturing sites.

However, along with improvements of these throughputs, the ratio of fixed-value losses that do not generate value, such as transportation time to production time, have also come into focus.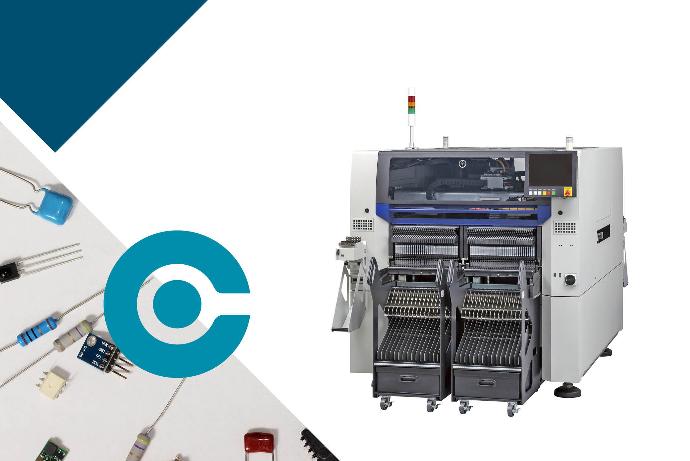 Premium dual lane YAMAHA modular YRM20DL 
Yamaha Motor has therefore newly developed the YRM20DL, a dual lane version of the YRM20 which is the latest flagship mounter to adopt the new generation platform. The unit supports various dual-lane production methods, such as transporting two PCBs of the same type by parallel mounting, transporting two PCBs of different types, and alternate mounting, making it possible to select and operate the optimal production system for each product PCB type.
As a result, fixed-value losses such as transport losses can be greatly reduced in a wide variety of SMT production lines, from high-speed mass production to high-mix low-volume production, along with improved actual productivity and per-unit-area productivity.
Example:  Dual lane mounting possibilities
Arrows indicate movement of the head    
Same type of PCB's by parallel dual lane mounting.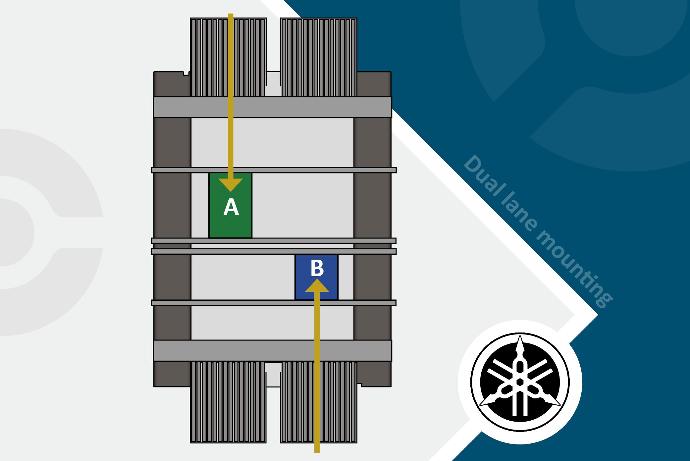 Different types of PCB's performed by dual lane mounting.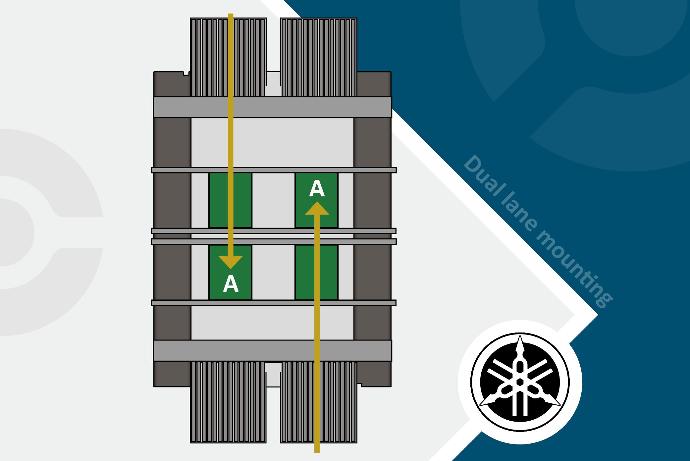 Supporting mounting innovation 
--
NEW
-- 
Preparation work (transportation, fixing, etc.) for the next PCB can be performed in 1st lane, while the 2nd lane still mounts. Allowing the head from the 1st lane to immediately move to mounting action on the 2nd line, reducing time loss from waiting / standby.

YAMAHA dual-lane modular YRM20DL features
Achieves higher speed & accuracy by improved basic performance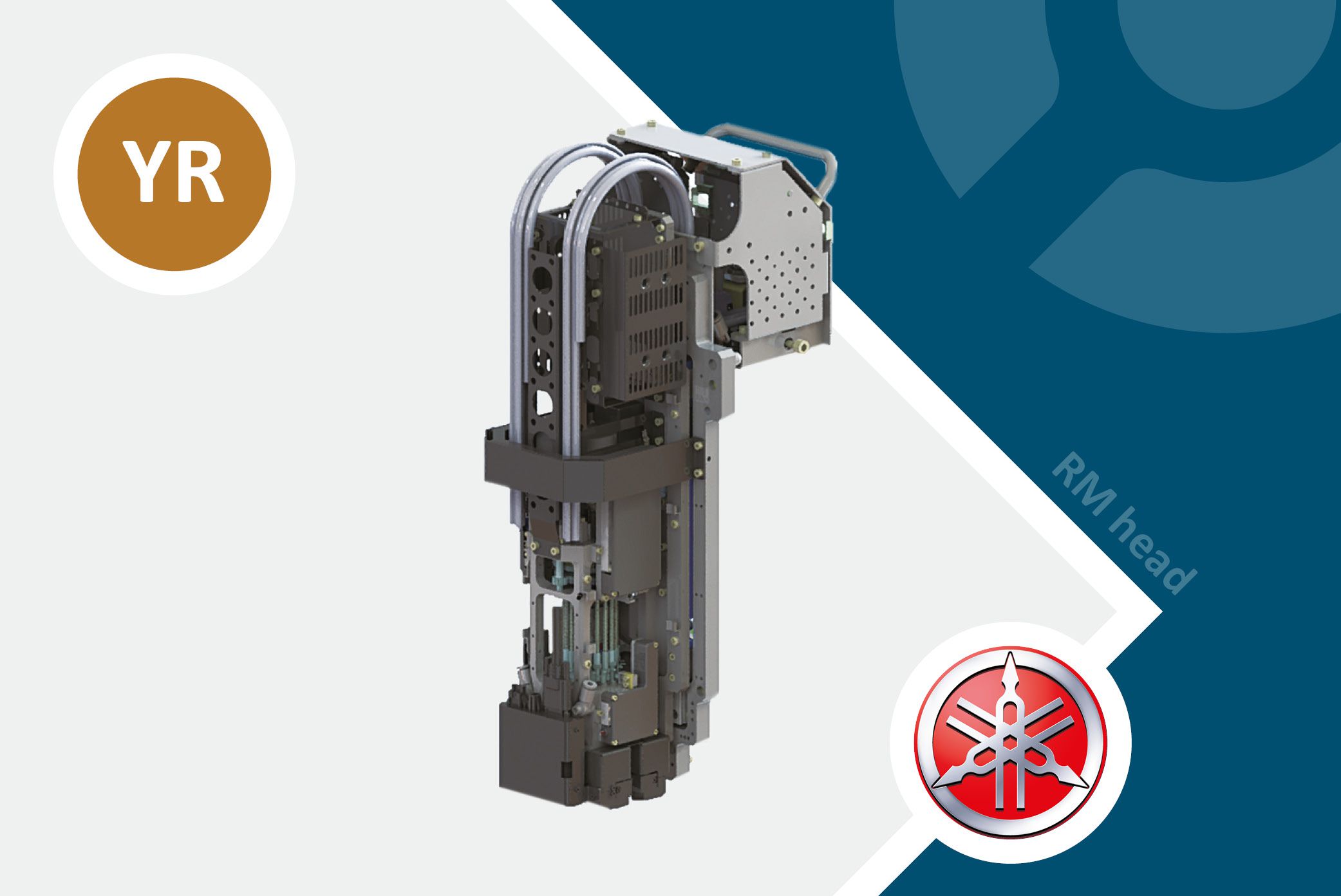 The newly designed RM head for the YAMAHA YRM20DL modular
By revising the dynamic layout, the unit has achieved the world's highest level of 120,000 CPH in its class (under company optimum conditions) realizing overwhelming productivity.
This has been achieved by way of minimizing the movement distance by bringing the pickup and mounting areas closer to each of the two heads, and further optimizing the overall spindle motion control. 
High-accuracy mounting of ±15 μm (Cpk≧1.0) is achieved by increasing the rigidity with the newly developed conveyor and improving the correction function.
The RM head / HM head supports 008004" (0.25 x 0.125 mm) sized ultra-small chip component mounting and narrow adjacent mounting.
Adoption of a newly developed dual-lane conveyor that reduces transport loss and improves per-unit-area productivity
The newly developed high-rigidity dual-lane conveyor supports a maximum PCB width of up to 330 mm where the same width PCB is being conveyed at the front and rear while in dual-lane production mode.
An ultra-high-speed rotary RM head that employs overdrive motion (mutual head insertion) allows the front and rear heads to operate without any interference up to a maximum PCB length of 380 mm, enabling highly efficient mounting without head standby loss.
In single-lane production, which uses only one of the two lanes, it is possible to transport PCBs up to a maximum 810 x 610 mm (length x width), with a transportable weight of 3 kg, and a maximum PCB thickness of up to 6.5 mm.
This new model is also compatible with a wide range of extra-large-sized PCB's, jig conveyance, etc., including for automotive products, industrial, medical, power devices, and LED lighting.
Overdrive motion within the YRM20DL
Other Yamaha YRM20DL key features
Mounting head can be selected from 3 types:
Ultra-high-speed rotary RM head with overdrive motion

In-line HM head that combines high speed and high versatility with "1 head solution" that can handle ultra-small chip components to larger components with one type of head

In-line type FM head capable of handling tall and odd-shaped components

More about the >> 3 mounting head types <<
Supports various labor-saving functions
Auto-loading feeder that can easily replenish tape components at any time without the need to stop production

eATS30, a non-stop tray feeder that can supply tray components in units of pallets/magazines without the need to stop production

Non-stop loading/unloading feeder cart that enables setup work for feeder carriages replacement without the need to stop production on one lane

Automatic exchange of push-up pins, greatly reducing workloads when changing products
Integrity and ease of maintenance
Nozzle ID management that enables maintenance optimization according to the number of accumulated shots

Self-diagnostic and self-recovery functions maintain a clean state, allowing continued high-quality production nozzle health care/feeder maintenance warnings
YM20DL basic specifications



Super high-speed rotary

High-speed general-purpose in-line

Flexible head for odd shaped chips

Nozzles, per 1 head unit



18
10
5

Applicable components




0201mm to W12xL12 mm 

Height 6.5 mm or less

03015 mm to W55xL100 mm
Height 30 mm or less

Mounting capability
(under optimum conditions)


(In high production mode)

(In high production mode)

Mounting accuracy
Cpk ≥ 1.0



±15 μm
(high-accuracy mode)

±15 μm
(high-accuracy mode)

±35μm

Number of component types


Max. 128 types = 32 feeders × 4 (conversion for 8 mm tape feeder) 




Max. 128 types
(conversion for 8 mm tape feeder)




60 types (maximum when equipped with eATS30 x 2)

Max. 128 types = 32 feeders × 4
(conversion for 8 mm tape feeder) 




Max. 128 types
(conversion for 8 mm tape feeder)




60 types (maximum when equipped with eATS30 x 2)

Max. 128 types = 32 feeders × 4
(conversion for 8 mm tape feeder) 




Max. 128 types
(conversion for 8 mm tape feeder)




60 types (maximum when equipped with eATS30 x 2)

PCB dimensions


W50 x L50 mm to W330 x L810 mm




W50 x L50 mm to W610 x L810 mm

W50 x L50 mm to W330 x L810 mm




W50 x L50 mm to W610 x L810 mm

W50 x L50 mm to W330 x L810 mm




W50 x L50 mm to W610 x L810 mm

Power supply

3-phase AC 200/208/220/240/380/400/416 V ±10% 50/60 Hz

3-phase AC 200/208/220/240/380/400/416 V ±10% 50/60 Hz

3-phase AC 200/208/220/240/380/400/416 V ±10% 50/60 Hz

Air supply source

0.45 MPa or more, in clean, dry state

0.45 MPa or more, in clean, dry state

0.45 MPa or more, in clean, dry state

External dimensions 
(excluding projections)

L 1,374 x W 2,102 x H 1,445 mm

L 1,374 x W 2,102 x H 1,445 mm

L 1,374 x W 2,102 x H 1,445 mm

Weight

Approx. 2.550 kg (main unit only)

Approx. 2.550 kg (main unit only)

Approx. 2.550 kg (main unit only)